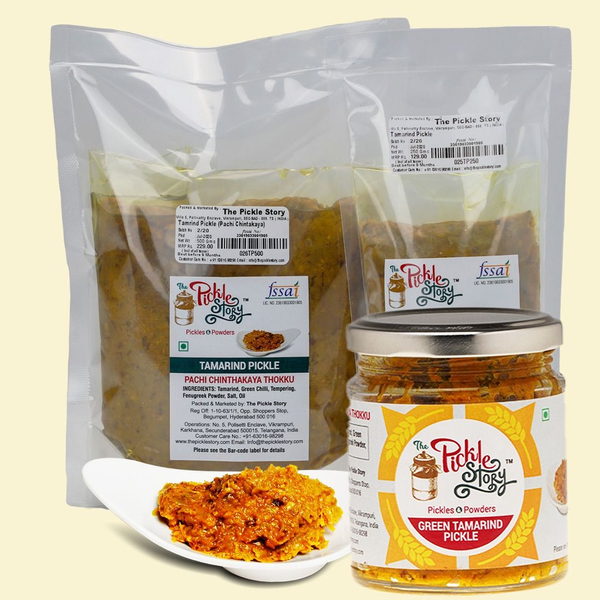 Green Tamarind Pickle With Green Chilli

Sign Up to See Wholesale Price
Delivery Details
Item available for Sample order
No minimum quantity restrictions
Estimated Delivery: 17 Jun - 22 Jun
Ships from India by Air
Shipping charges calculated at checkout
Highlights
Veg/Non-veg - Veg

Ingredients - Tamarind, Curry Leaves, Green Chilli Paste, Fenugreek, Mustard Powder, Salt, Oil

Storage Instructions - Store in a cool dry place

Package Includes - 1 Pack

Shelf Life - Best from 12 months from Manufacture

Origin - Telangana
Product Details
INGREDIENTS: Tamarind, Curry Leaves, Green Chilli paste, Fenugreek, Mustard Powder, Salt, Oil TAMARIND PICKLE WITH GREEN CHILLIES Tamarinds are cleared most of its strands and seeds, after which pickled in spices, salt and oil. Select, best variety Tamarind is used. Zero Preservatives and Zero Colours used, hence in the first few days of making the pickle one would find a dash salt extra, as this acts as a natural preservative, but once the pickle gets matured the salt levels get adjusted.
Description: The pickle is homemade, with recipes handed down from generations, we follow utmost hygiene, we also follow GMP (Good Manufacturing Practices). All the raw materials are properly cleaned, tested and then used. A time-tested recipe and a quality pickle from the house of THE PICKLE STORY.
THE PRODUCT COST INCLUDES, EXTRA CHARGE TOWARDS DELIVERY.
Contact Us
Sector 7, HSR Layout, Bengaluru, India 560102
Our Partners




© 2023 Indievibe. All rights reserved